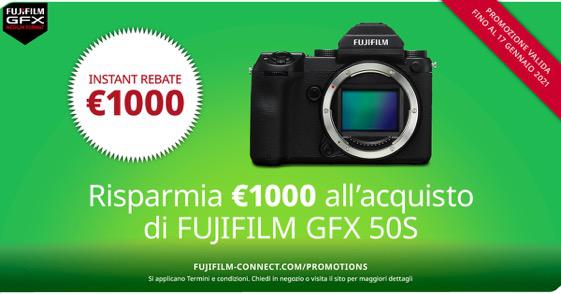 FUJIFILM presents a new Instant Rebate promotion worth € 1,000 including VAT, dedicated to the GFX 50S. The discount is recognized only if the purchase is made by January 17th and from an Authorized "GFX & nbsp; Authorized Specialist" Reseller, both in a physical store and online.
GFX 50S is equipped with a 51.4 Megapixel 43.8x32.9mm CMOS sensor, increasing the photosensitive area by approximately 1.7x compared to "full frame" sensors.
Thanks to the excellent ability to capture light, given by the large size of each pixel, images of higher quality are obtained than those of cameras equipped with full frame sensors, with an equivalent number of pixels. The images can therefore be reproduced with precision in the smallest details, restoring the naturalness of the subject, the feeling of three-dimensionality and the atmosphere of the scene.
GFX serie represents the culmination of Fujifilm's expertise in design, optical design, image quality and circuit design, gained over many years of developing photographic film, large format camera lenses.